Gastronomy onboard French Ocean Liners.
(Exhibition translated in english and german)
From June 24 to October 2, 2016, quai de la Libération and Town Hall of Duclair (Seine-Maritime).
Discover the somptuous  universe onboard the most famous liners of the Compagnie Générale Transatlantique!

French Lines holds an exceptional collection dedicated to tableware, evoking a certain French art de vivre which is still renowned in palaces today and is proudly reflected in our hotel industry.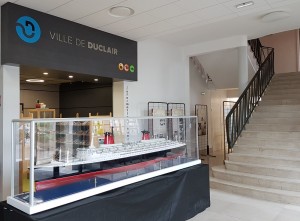 French liners were shrines to design, tableware and gastronomy for over a century. A symbol of national expertise to the art of hospitality and service excellence, passengers were catered for in luxurious dining rooms, such as the dining room on the Normandie, which was longer than the Hall of Mirrors in Versailles!
The "Transat" sought to offer constantly renewed luxury on board liners, making them genuine floating palaces. Culinary art held a prominent place during a cruise or crossing on French Line vessels. Each day was punctuated by several meals, ranging from breakfast to dinner. The dining areas were also social spaces, dedicated to satisfying all appetites as well as entertaining passengers.
To stand out from the competition and to strengthen customer loyalty, the Compagnie Générale Transatlantique relied on its international reputation for French gastronomy.
Through the incredible collection and photographs kept by French Lines, discover this extraordinary universe!
Presented in the Town Hall and along the bank of the river Seine, this exhibition is composed of 49 large photos accompanied by numerous anecdotes, an impressive ship model of the liner France (1962) and tableware display cases.

Welcome onboard !
Quai de la Libération and Town Hall of Duclair
From June 24 to October 2, 2016
Free