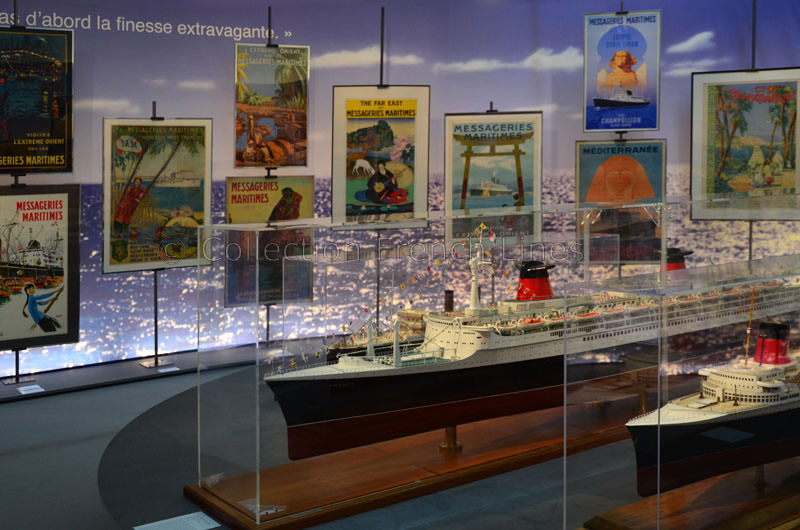 "Legends of the Seas" Exhibition (2013). © F. Beauclair
From furniture to posters, liturgical objects to technical instruments, including models, graphic art and silverware, French Lines has an exceptional heritage—due to its varied nature and the unique accounts regarding the development of the French Merchant Navy since the mid-nineteenth century. With an estimated collection of over 30,000 pieces, some one hundred works are classified as historical monuments.
The constant expansion of the collection, as well as its restoration and improvement, is an integral part of French Lines day-to-day objectives. This is carried out regularly through donations of works and objects, as well as acquisitions.
The greatest illustrators and poster designers used their talent to capture the power of the liners and the allure of voyages to faraway destinations since the late nineteenth century. The creativity of these artists was largely encouraged by requests from shipping companies anxious to increase their growing clientèle.
Given their ability to immediately evoke attention, advertisement posters were the main communication tool and the world of maritime poster images has greatly contributed to the legacy of French shipping lines. This communication method enticed people to travel more than any other. These "ads" were elevated to a work of art through the talent of well-known artists and painters in the Navy.
French Lines has a unique collection of over 600 original posters that still bring us on a voyage of discovery. We are transported across continents and back in time as we gaze at works signed by Cassandre, Albert Sebille, Sandy Hook or Albert Brenet.
French Lines holds an exceptional collection dedicated to tableware, evoking a certain French art de vivre which is still renowned in palaces today and is proudly reflected in our hotel industry.
French liners were shrines to design, tableware and gastronomy for over a century. A symbol of national expertise to the art of hospitality and service excellence, passengers were catered for in luxurious dining rooms, such as the dining room on the Normandie, which was longer than the Hall of Mirrors in Versailles.
Companies sought to offer constantly renewed luxury on board liners, making them genuine floating palaces. This is evident from the collection of silverware, glassware, earthenware and porcelain, along with almost 9,000 printed menus that give us an insight into cruises and crossings, as well as breakfasts and gala dinners—over a century of gastronomy!
Thousands of pieces of silverware, created by great silversmith houses such as Puiforcat, Christofle and Ercuis, decorated the tables of French liners. The service styles evolved according to artistic trends at the time and the decor chosen for each vessel. A distinctive feature of the company, the monogram or emblem adorning each piece is a prime example of the careful attention paid to elegant graphic design that contributed to the prestige of the company and its ships.
Tableware had a special importance on board larger vessels, which were considered ambassadors of French service. What could be more appealing than a sumptuously set table laden with the most delicious national dishes? Fine porcelain and earthenware decorated with various monograms, emblems and logos from shipping companies, delicate and therefore often short-lived, came from the best French manufacturers (Haviland and Gérard Dufraisseix & Abbot in Limoges, Digoin Sarreguemines, etc.) and appeared alongside elegant glassware from houses such as Daum, Lalique and Saint-Louis.
French lines houses a significant collection of liturgical objects dated between 1930 and 1970 in its reserves. From chapel supply cases to lace vestments, including chasubles with vivid decor, the range of objects in the collection shows the important role that religious life played on board the liners. If the collections reflect the regular celebration of Catholic services on board the ships, some objects also highlight the Jewish religion, such as the incredible portable oratory designed after World War II for the Île-de-France liner from the Compagnie Générale Transatlantique.
Dining room waiters, bell boys, nurses, engineering officers, porters, sailors, etc. have all donned these work clothes. Each profession was distinguished by a uniform. Facings and stripes may have denoted different ranks, but all were equally proud to serve the companies that flew the French flag across the world's seas. The items of clothing on display at Le Havre are a touching testament to the lives of seafarers on board.
French Lines also possesses a large number of textile items such as scarves, ties, national flags and mast tops, rugs, etc. The exceptional collection of tapestries that once decorated the France liner (1962) contain the famous signatures of Jean Picart Le Doux, Lucien Coutaud and Robert Wogensky.
French Lines houses several hundred furniture pieces, from cast-iron swivel chairs from the late nineteenth/early twentieth century to the avant-garde furniture from the France liner (1962), or the famous Compagnie Générale Transatlantique red deck chairs. Pedestal tables, chairs, desks, beds, wardrobes and libraries are sometimes used for reconstructions. This is possible thanks to countless image records retained in our archives.
Decor from the France liner (1912)
A unique set of woodwork and ironwork from the 1912 France liner is carefully stored in the reserves at Le Havre—a true gem that represents early twentieth century decorative art. These exceptional pieces reflect the refinement and prestigious nature of the vessel known as the "Versailles of the Atlantic".
Models have always had a special meaning for people who have sailed across oceans or accompanied vessels from their construction until their demise. It's also a splendid object that allows everyone, both big and small, passionate and curious, to linger over these floating legends and view them from all angles, while dreaming of long voyages on the seven seas aboard these giants of the ocean.
Whether crossing oceans by sail, paddle, coal or oil; cargo ships, liners and specialized vessels represent an important chapter in technical development and French industrial history.
French Lines houses the largest collection of Merchant Navy models from 1850 to 1996 in Le Havre, including the original model of the Normandie that was presented at the International Art and Technology Exhibition in 1937, or a series of one hundred miniatures of the entire French Line's fleet that was requested by Maurice Basile to celebrate the company's centenary. Whether they are a few centimeters long or over 5 meters like the exceptional model of Mariette Pacha liner from Messageries Maritimes, the models give you the opportunity to discover the history of the vessels belonging to the largest French shipping companies.
It is a Merchant Navy tradition to celebrate a significant event with a commemorative medal. Guests are given a medal to celebrate the launch of a ship as a souvenir of that day. A President's memory is commemorated in the same way. Like individuals, a vessel may be decorated for acts of war and rescue operations.
French Lines also keeps meeting tokens given to shipping company shareholders, medals given to employees for good and loyal service, as well trophies won during sporting competitions.
A century of creation awaits those who stop to contemplate the countless merchandise and advertising items produced by these shipping companies. A seemingly endless inventory of everyday items, from the indispensable to the superfluous, the commonplace to the refined, are retained by French Lines. Such items include snow globes, pins, ashtrays, inkwells, scarves, games, ribbons and stamps.
For those lucky enough to board, it was an opportunity to collect dozens of souvenirs of the crossing. The companies were aware of the needs of their passengers and created hundreds of related products that they gave or sold along the journey, allowing passengers to take home these small mementos of happy times at sea.
Technical objects, luggage and handling devices
Navigational instruments, ship bells, medical objects, as well as luggage trolleys, cabin trunks, bottle crates, etc., such is the diversity of the assorted, yet fascinating, collection from the world related to passenger journeys, like the transportation of goods. These objects show the development of the shipping community throughout the twentieth century and easily set the historical scene, allowing visitors to immerse themselves in the impressive history of the Merchant Navy.
Some of the largest French vessels were decorated with a multitude of original artwork. An example of this is the Normandie liner (1935), which was adorned with modern paintings. Shipping offices and port agencies possessed portraits of ships and fine prints.
They enlisted the help of great painters such as Mathurin Méheut, Albert Sebille, Édouard Collin, Charles Martin-Sauvaigo, Maurice Paulin, Sandy-Hook and Marin-Marie to design posters and advertising material. A large number of paintings, gouaches, watercolors and prints that illustrate the entire history of twentieth century art are safely stored along our shelves and are regularly presented at exhibitions.